The High Five
The Politicization of the Boston Bombings Has Begun – The attacks have nothing to do with immigration reform, but partisans are rushing to exploit them anyway. Howard Kurtz examines the false arguments.

Caught on camera: Boston manhunt sparks privacy debate – Almost 12 years after the national trauma of the original Sept. 11 attacks, a televised act of terrorism followed by the swift killing and capture of the two suspected perpetrators has opened questions about what is acceptable to a public already chafing under intrusive security measures unheard of until this century.

Earth Day founder's 'living' building signals new era of sleek sustainability – In cloudy, drizzly Seattle, Denis Hayes, the environmental activist who organized the first Earth Day in 1970, is pulling the wraps off a six-story office building that generates all of its electricity via an oversized rooftop array of solar panels.

Thirsty States Take Water Battle To Supreme Court – The court will hear oral arguments in the case of Tarrant Regional Water District v. Herrmann, et al. The case pits Oklahoma against Texas over rights to water from the river that forms part of the border between them. Depending on how the court decides, it could impact interstate water-sharing agreements across the country.

In Atlanta, Two Churches Lie in New Stadium's Path – The three have come together in the latest and most expensive civic building for downtown Atlanta: dismantling a stadium that for 21 years has been the sturdy but frumpy home of the Atlanta Falcons and building a billion-dollar luxury stadium with a retractable roof that would be ready for the 2017 season.
4-1-1 on E-L-G-L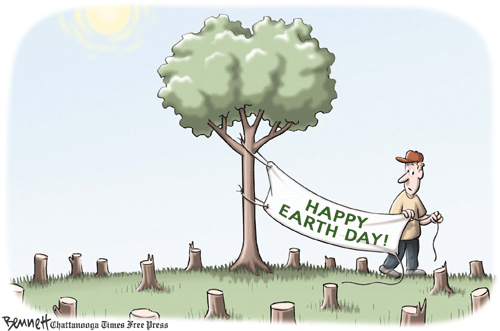 Newest ELGL Member: Claire Harvey, Santa Clara University, Economics and Political Science Major

May 1: Resume Review With Heather Gantz, Waldron HR
May 8: OPB President Steve Bass
Weekly Reader – Top 5 Blog Posts of the Week
I'm Just a Bill
Oregon gun, pot bills clear key legislative hurdle – Those bills and dozens of others failed to clear a key deadline in the Oregon Legislature last week. Thursday was the last day for a bill to get a committee vote in the legislative chamber where it was introduced.
Homeless groups seek $5 for veterans – Added $5 real estate fee would aid housing programs
Parties divided over tax measure – The 2013 Legislature will have a defining moment Wednesday, when the House is scheduled to vote on one bill that would raise taxes on higher-income households and businesses and another that would pare future public pensions.
Lawmakers to Oregon kids — Salute the flag and stay out of tanning beds: Oregon Legislature today – The House will vote on a measure, House Bill 3014, requiring public schools to post the American flag in classrooms and make time for a daily pledge of allegiance. Meanwhile, the Senate will consider House Bill 2896, which would greatly limit the use of tanning beds by minors.
Fiscal Cliff
Metro's 2013-14 budget proposal reflects federal cuts in planning funding – The proposed $481 million budget, set to be reviewed by the Metro Council starting next week, also cuts 2.5 full-time positions from Metro's Research Center. Most of the cuts are expiring limited-duration positions or positions eliminated through attrition.
Budget includes higher rates – The Brookings City Council Monday unveiled its proposed $19.8 million budget for 2013-2014, with sewer rate increases, a sewer plant retaining wall project and storm system repairs among the project highlights for the upcoming year.
Inmates help trim budgets – Work crews from Larch Corrections Center offer non-profits, agencies low-cost labor
Furloughs underway, but uncertainty remains for many workers – After months of nervous anticipation, federal workers begin the first major round of furloughs this week, even as much uncertainty remains at some agencies about how much time, if any, employees will lose from their jobs because of mandated spending cuts.
Inside Portlandia
Sunset Corridor's long-overbuilt office supply is drying up – When the bubble burst, the Sunset Corridor west of Portland collapsed spectacularly, as small tech companies folded and established firms slashed personnel and office space.
Even in Portland, Bike Share Can't Get Private Investors – Portland's bike share program, run by a company called Alta Bicycle Share, has already received two million dollars from the federal government. Apparently, this was not enough "free" money to be successful, as the program has been hampered by delays. It is also short about three million dollars in equipment costs, and private sector investment has not been forthcoming.
Delta gravel pit expansion plan rejected – A Lane County hearings official cites zoning issues and dust pollution in ruling against Delta Property Co.
Eugene waste fees to go up in July; Springfield weighs stormwater fee boost – In Eugene, the monthly sewage charge will rise 3 percent to $23.69
L.A. County to Redesign the Voting Process – The project really began about two and a half years ago when the county began collecting data on how people vote and want to vote, said Dean Logan, county registrar-recorder and clerk. IDEO will use that data to come up with designs that focus on what people do, rather than the technology needed to finish the job – the technology will come later.
East Coast Cities at Risk in Future Tsunamis – John Ebel, an earth-sciences professor at Boston College, put his hometown and its coastal kin on the danger map during a presentation on Friday at the Seismological Society of America's annual meeting. Ebel was inspired to take up the question of East Coast tsunami damage after a "swarm" of 15 earthquakes struck about 170 miles east of Boston in April 2012, with the largest being of 4.0 magnitude. The same year, several other tremors occurred off the coasts of Newfoundland and Cape Cod along the Atlantic continental shelf.
Cleveland must break its cycle of abandonment – A study in progress by Tom Bier, senior fellow at the Maxine Goodman Levin College of Urban Affairs at Cleveland State University, uses irrefutable census data to demonstrate that Greater Cleveland is a community in trouble.
Career Center
Helicopter Managers: The Helping Hand Strikes Again – We all know helicopter parents, who are always hovering overhead to make sure that their children are thriving. In one survey of 725 employers hiring recent college graduates, more than a quarter had been contacted directly by applicants' parents or received applicants' resumes from parents; some even had parents show up at interviews with their children, negotiate the terms of their job offers, and ask for a raise or promotion.
Social Network
In Boston, CNN Stumbles in Rush to Break News – When big news breaks, a common impulse is to turn to CNN, but the network suffers from self-inflicted damage.
Pete Williams' Reporting Philosophy, And Why He's Getting Boston Right – In a recent interview, the longtime NBC justice correspondent summed up his reporting approach: 'The essence of journalism is the process of selection.'
May We Recommend:
ELGL Facebook: New Urban Network
ELGL Google+: Historic Preservation League of Oregon