In today's buzz I celebrate NASA's discovery of the TRAPPIST-1 star system, like every other red-blooded nerd I am excited at the prospect of discovering Earth-like planets (3 planets in the habitable zone!?!) even if they are 39 light years away. Throw in some space art, planet naming contests, and some potential aliens-I'm in.
Right Now with Carly Lorentz (Twitter | LinkedIn)
What I'm Watching: Magicians
What I'm listening to: Someone Knows Something
What I'm Doing: Touring Outdoor Lab, our school district's outdoor education site
We're Buzzin'
Fact Check: Trump's First Address to Congress: Reporters from The New York Times fact checked President Trump's first address to Congress.
PwC Accountant Brian Cullinan Was Asked Not to Tweet During Oscars: Cullinan was told not to use social media during the Oscars — despite tweeting a photo of Emma Stone just moments before handing Warren Beatty and Faye Dunaway the wrong envelope for Best
How to Draw an Exoplanet: Fifteen years ago, Tim Pyle was animating spaceships for Invader Zim on Nickelodeon. These days, he illustrates exoplanets orbiting stars in the Milky Way.  NASA announced on Wednesday the discovery of seven Earth-sized planets around a star called TRAPPIST-1 nearly 40 light-years away, some of which orbit in the habitable zone, where liquid water could exist.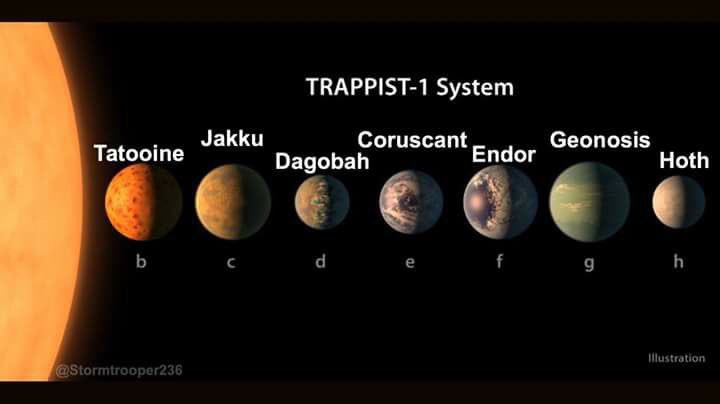 Trending on ELGL
Upcoming ELGL Events

50 Nifty
You Know What North Dakota Needs? More Parking Meters: Finding a place to park in North Dakota usually isn't a big problem. With fewer than 10 residents per square mile, the state is famous for its emptiness. Yet lawmakers here are thinking about bringing back parking meters—which have been banned from the streets for 68 years and are still widely regarded with hostility.
As France's Towns Wither, Fears of a Decline in 'Frenchness': The paint is fading, but the word is still clear: Alimentation, "Groceries." It seems like a stage prop, grafted above the window of the empty old storefront. Opposite stands a tattoo parlor. Nobody enters or leaves. The street is deserted.
Flint residents must start paying for water they still can't drink without a filter: Residents in Flint, Mich., are about to start paying the full cost of their water again, even though what's flowing from their taps has yet to be declared safe to drink without an approved filter.
Oscar-winning 'Moonlight' shines on Miami's Liberty City: Oscar-winning film "Moonlight" presents a view of Miami that never shows up in a tourism video. Far from the sun and glamour of South Beach or the artists and hipsters of Wynwood, it shows predominantly black communities, truly known by few outside the people who live there.
The Ontario Shoreline, Remade for Winter: A Toronto design competition invites an unlikely urban activity—going to the beach during the chilly off-season.
Debunking Alternative Facts: The Reality of Chicago's Violence Problem: While it's undisputable Chicago has a violence problem, the White House rhetoric is rooted in alternative facts. According to a recent report by the University of Chicago Crime Lab, we are not alone in experiencing a sudden increase in homicides. Although we have a higher number of murders than our big city counterparts, Chicago's total homicide rate at 27.8 per 100,000 residents is in the middle when compared to all U.S. cities, and ranks eighth of cities with the highest murder rate.
Riding Transit Takes Almost Twice as Long as Driving: For New York metro residents who take public transportation, a door-to-door commute averages about 51 minutes. That's much longer than the 29 minutes typically spent by those who drive alone. Similar discrepancies exist around Los Angeles, where despite the region's traffic woes, drivers arrive at work an average of 22 minutes faster than public transportation riders. In nearly every metro area, driving to work remains far quicker than using a bus or train, taking less than half as long in some places.

Local Gov Confidential
What City Council is saying about Bernero's decision: Council members reflect on the 'angry mayor,' what it's been like working with him over 12 years.
Tucson to AZ Supreme Court Gun destruction is strictly local issue: The question of whether cities can decide what to do with seized and forfeited guns could end up being decided based on how extensive the Arizona Supreme Court believes is the right of local governments to make their own laws.
City Hall tours highlight history and government workings: Have you ever wondered what goes on inside Santa Maria City Hall, the building's history or how local government works? If so, put a group together and sign up for a guided tour of the city's center of government.
Austin City Council divided on affordability action plan: An affordability action plan championed by Austin City Council Member Ellen Troxclair and four of her colleagues, including the mayor, landed with a thud before the other half of the City Council on Tuesday.
Baltimore City Council Members push for police control, information to improve agency:  A majority of City Council members said Monday they want the state to give control of the Baltimore Police Department to local officials, part of a series of actions they think will help stem the tide of violence.