Today's Buzz remembers a relic of a simpler time- the TV cartoon Wacky Races!

Right Now with Ben DeClue (Twitter / LinkedIn)
What I'm reading: Let Us Now Praise Famous Men
What I'm doing: Still grinding levels and farming AP in FFXV.  Level 75 already…
Buzzing
Russia's ambassador assassinated in Turkey: In a video of the attack, the gunman is heard shouting: "Do not forget Aleppo! Do not forget Syria!" Russia, which called the attack an act of terror, is a key backer of Syrian President Bashar al-Assad and has taken part in attacks on Syrian rebels, who have extensive networks in Turkey.
Mediator: By Attacking the Press, Donald Trump May Be Doing It a Favor: While biting tweets backfire and fake news abounds, subscriptions are on the rise in what could be journalism's finest hour.
To Rehabilitate Democratic Party, Obama Plans To 'Coach' Young Talent: The president said Democrats have "ceded too much territory" to Republicans in local races. Obama sees his role after leaving office as helping a new generation "rise up."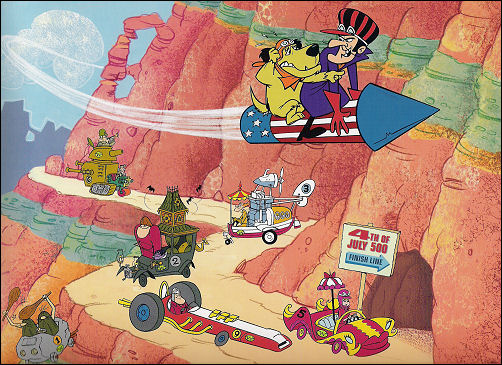 Trending
Storytellers with DJ Susan Barkman
Embrace Debate: What is Your Most Controversial (Non-Political) Opinion?
Morning Buzz, Email Newsletters, & Job Postings
Nominations for "Best City Hall"??

50 Nifty
Authorities rescue 7 cavers in southern Indiana: Authorities say they've rescued seven cavers who didn't exit a southern Indiana cave as planned. The Indiana Department of Natural Resources said in statement early Monday that the remaining five cavers were extracted from Binkley's Cave near Corydon around 3 a.m. Monday and were treated for hypothermia and exposure.
Bill Clinton: Trump knows how to get 'angry, white men to vote for him': President-elect Donald Trump "doesn't know much," former President Bill Clinton told a local newspaper earlier this month, but "one thing he does know is how to get angry, white men to vote for him."

It's Not 1914: In September 1898, the Empress of Austria—on holiday in Geneva, Switzerland—was stabbed and murdered by an Italian anarchist. The killing stunned Europe. Forty years later, the novelist Rebecca West still recalled her shock at the news. She explained her surge of emotion to a puzzled housemaid: "Assassinations lead to other things."
#LocalGov Confidential
Gov.-elect Greitens opposes public funding for St. Louis soccer stadium: Missouri's incoming governor calls the stadium project "welfare for millionaires."
Dispute at Joplin, Mo., senior housing complex over religious Christmas decorations: The complex's nonprofit owner said it must follow the federal Fair Housing Act because it receives funds from the U.S. Department of Housing and Urban Development.
St. Louis aldermen approve development measures on SLU, City Foundry: The university envisions building new academic and medical buildings to go along with private investment near its medical center and north campus.
Architects Selected for Gillson Beach House: Wilmette is making progress on a new beach house at Gillson Park. The Wilmette Park District Board of Commissioners selected Chicago-based Woodhouse Tinucci Architects to design a new beach house and parking lot for Gillson Park at a meeting on December 12.  The Park District issued a Request for Qualifications (RFQ) in September, receiving 10 responses from architectural firms and narrowing it down to five options. In November the Lakefront Committee interviewed those five architectural firms, each of which submitted design ideas for a new beach house as well as a redesigned parking lot.