Today's buzz celebrates the late Robert E. Howard's greatest character, CONAN THE BARBARIAN!  Specifically some of my favorite covers from the Savage Sword of Conan magazine. 
What I'm Reading: The Way of Kings by Brandon Sanderson
What I'm Watching: 12 Monkeys Season Finale
What I'm Doing: Prepping for GenCon in 2 weeks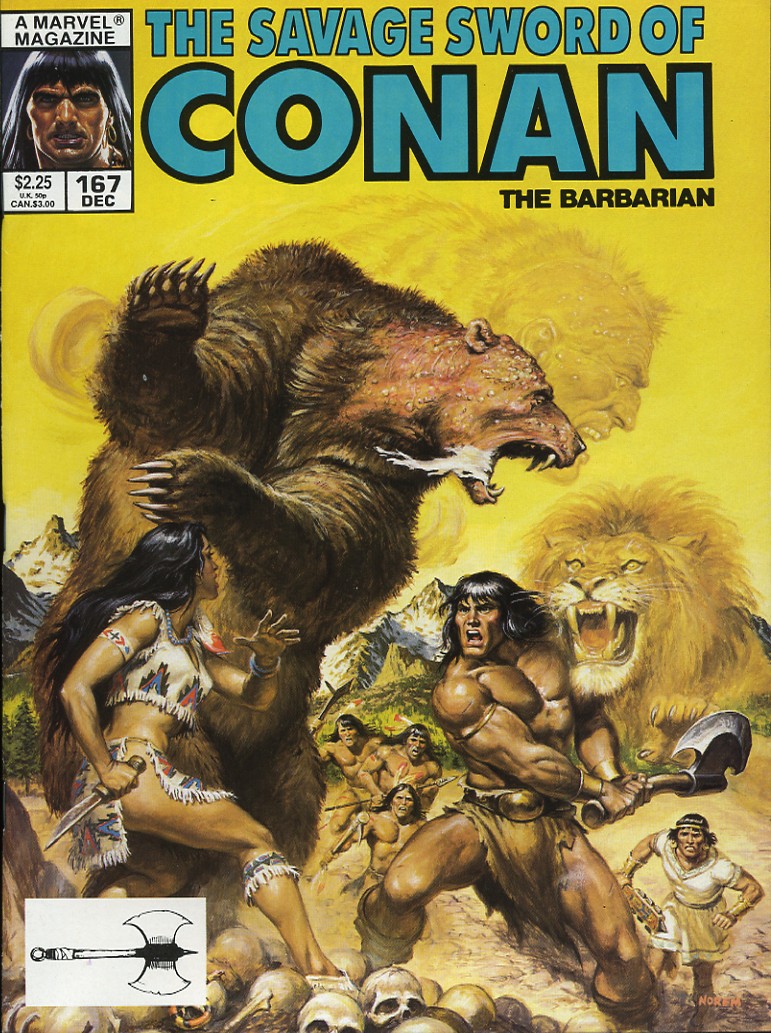 Buzzing
A Playboy Playmate was disgusted by a normal woman's body. So she posted it online: The backlash against Dani Mathers was strong: She has been banned from L.A. Fitness, indefinitely suspended from her radio gig on a popular Los Angeles station and predictably lambasted online.
Republicans' Vaudeville Convention: All the convention's a stage, and speakers are merely players. At this week's Republican National Convention, one former entertainer and political farceur has already pushed to the center in a winking game that alternates between seriousness and an old television persona: Stephen Colbert.
Trump's ghostwriter: he's a sociopath who, if elected president, could end civilization: As the ghostwriter for Donald Trump's 1987 memoir The Art of the Deal, Tony Schwartz spent more than a year with the businessman. The book, which was largely penned by Schwartz, helped create Trump's national reputation as a savvy dealmaker.

Trending
Upcoming
MRSC Webinar: Taking Your Social Media to the Next Level – July 19, Seattle WA
ELGL/UMANT Webinar: Technology Efficiency Series: Snapchat – July 21, anymeeting.com/elgl50
Conference: Center for Priority Based Budgeting (CPBB) Conference – August 2 to 4, Denver CO
Event: ELGL & CPBB at the Ballpark – August 3, Denver CO
Supper Club: ELGL Supper Club in San Mateo, CA – August 28
Webinar: Future Schedule Technology Efficiency Series – New Webinar Every Month
Fifty Nifty
Donald Trump's Safe Choice for No. 2 Frees Hillary Clinton's Hand, Strategists Say: The choice of Gov. Mike Pence of Indiana, a far-right conservative, eases pressure on Hillary Clinton to make an adventurous choice for vice president, strategists say.
Melania Trump: From Small-Town Slovenia to Doorstep of White House: Growing up in Sevnica under a Communist regime, Ms. Trump showed a determination to move ahead in the world, according to friends and acquaintances from her youth.
So That's Who You Call: The Politics of the New 'Ghostbusters': The New York Times critics Manohla Dargis, A.O. Scott and Wesley Morris discuss the prerelease outcry, how the original film wasn't that amazing and Kate McKinnon's greatness.
Many Cops Under Tremendous Stress After High-Profile Killings: It's a difficult day for law enforcement officers after the killings of police in Dallas and Baton Rouge. For many officers, tensions are high and morale is low.
A Year After Iran Nuclear Deal, What Has Changed?: All parties are complying, but critics in both the U.S. and Iran are still unhappy with the deal.
Rise And Fall Of Theranos In A Biotech Cartoon: Hollywood has already cast Jennifer Lawrence to star in a movie about the embattled biotech firm. How did founder Elizabeth Holmes go from self-made billionaire to an estimated worth of $0? Read on.

#LocalGov Confidential
The City Should Give Renters Property Tax Relief, Alderman Says: Homeowners aren't getting much help with the cost of living, but renters so far aren't seeing any.
Velodrome Likely Closed Due To Backbreaking Insurance Costs: The only track of its kind in Chicago no longer has a land lease.
Fenton Chrysler site redevelopment could follow Hazelwood Ford blueprint: The plan calls for a logistics center and incentives as industrial market booms and leaders tout logistics and warehousing space.
Along for the Ride: Speed humps on city streets on the way: Humps will be allowed only on residential streets with not much traffic.
What its like to be black in Naperville, America: The first time I was acutely aware of my Blackness, I was probably 6 or 7 years old. Like, before then obviously I knew I was Black, but I hadn't really had it put in my face like this until I was about 6 or 7. I used to go to daycare back then, and we went on a field trip to a water park one time. One of the other boys from the daycare came up to me and told me he was surprised I was going on the trip because his dad told him all colored people were afraid of the water since we sink to the bottom. He didn't know he was being offensive. He was just curious why someone who would sink to the bottom would want to go to a water park.