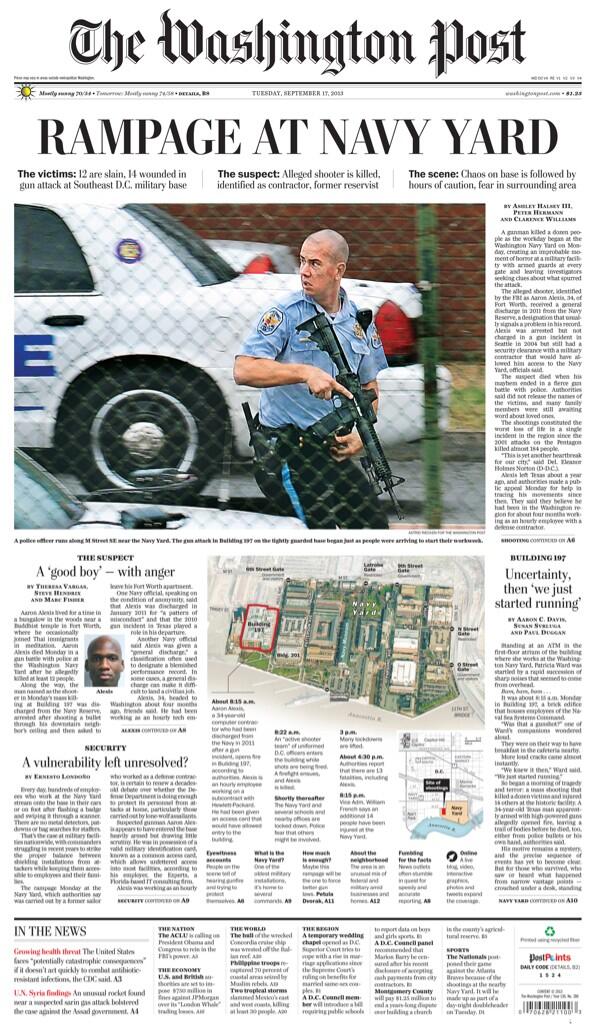 David Finley, University of North Carolina at Chapel Hill, MPA Student
Saby Waraich, City of Portland, Sr. IS Manager (I)
Shannon Williams, City of Bend, HR Analyst
High 5
How to Design a City for Women – A fascinating experiment in "gender mainstreaming."

The High, Hidden Cost of Gun Violence – We spend hundreds of millions of dollars each year treating shooting victims at hospitals.
Colleges Clash with Towns over the Cost of Public Services – It was just about the time they were going to turn off the water that this village recognized it might have a college problem.
A tale of two file-sharers – USERS take for granted how easy it is to share files online today. Providers, such as Google Docs, Dropbox and SendThisFile, make cloud-based file-sharing feel less like a privilege than a right.
Lessons for Detroit From Another Troubled City: Los Angeles – It's no secret: urbanists and city lovers worldwide have a soft spot for Detroit. For urbanists, Detroit is kind of like the fat kid in a Disney baseball movie: hard to look at, but sympathetic – someone you want to see hit a home run at the end of the movie, improbable though that may be.

No, Obamacare Isn't Why Emory Is Laying Off Staff – Right-wing media are jumping at reports that the law is forcing providers to cut jobs. But Emory says it's not so.
Filene's project gets $7.8 million city tax break – Mayor Thomas M. Menino's administration has agreed to give a $7.8 million tax break to help with the $630 million redevelopment of the former Filene's property into a towering complex of offices, stores and luxury homes.
What 'Fringe City' Status Means for the Look and Feel of a Community – For an easy contrast with Sioux Falls, Burlington is a town of 40,000 people that includes a sizable campus, the University of Vermont's, but that does not include a single McDonald's outlet.
Here's a Novel Idea: In MA, Policymakers Work Together on Economic Development – The Rust Belt often gets the most attention for depopulated urban cores and legacy cities reeling from the decline of manufacturing. But from Springfield to Pittsfield, Massachusetts deals with many of the same issues.
Electeds
 
Governor pushing special session – Gov. John Kitzhaber called House and Senate leaders together Monday to try to hash out a plan for a special session later this month. They weren't successful, but are scheduled to meet again this morning.
Feinstein: Congress 'shirking' duty – "We must do more to stop this endless loss of life," the California Democrat says.
Unpredictable calamities upend Obama's second term in office – As reports of the deadly shooting broke, Obama was forced to rewrite prepared remarks on the economy.
Thompson Ends Bid for New York City Mayor – Democrat Bill Thompson dropped out of the race for New York mayor Monday, making Public Advocate Bill de Blasio the party's nominee.
Newcomers Challenge Leadership in the House – Representative Justin Amash of Michigan is among the cadre of young, libertarian-leaning Republican House members who have repeatedly hijacked the party's agenda.
5 Years After Financial Collapse, Obama Says House G.O.P. Could Reverse Gains – The president warned that House Republicans would reverse the gains made and willfully cause "economic chaos" with their uncompromising stands on looming budget deadlines.
Social Network
ELGL: Facebook, Google+, LinkedIn, Pinterest, and Twitter
 
Does Apple Really Need a Less-Expensive iPhone Right Now? Read through the volley of research notes that followed the debut of the 5c, and a common theme emerges: Apple should have used the device to establish a new iPhone price band low enough to drive growth in big, price-sensitive markets like China.
Twitter and Facebook flash back online in parts of Iran – The apparent change comes just days after the foreign minister's Twitter account was officially confirmed.
Reddit bans subreddit for finding the Navy Yard shooters – It looks like reddit may have learned its lesson from the Boston Marathon Bombing witch hunts.
What happens when media & big data collide? Here's what happens when you combine the power of big data intelligence with your media strategy.
Career Center
Here's Why Your Resume Won't Get Seen – You shouldn't blindly submit your materials. But, not because a company won't accept them. They will.
Draft: Time to Write? Go Outside – Nothing coaxes jumbled thoughts into coherent sentences like sitting under a shade tree on a pleasant day.
Did I Really Go to Harvard if I Got My Degree Taking Online Classes? Extension schools offer cheaper degrees with lower admissions standards.
Why Generation Y Yuppies Are Unhappy – Lucy is part of Generation Y, the generation born between the late 1970s and the mid 1990s. She's also part of a yuppie culture that makes up a large portion of Gen Y.
Portlandia
 
LCDC delays punishing Damascus until it decides whether to stay a city – Oregon's Land Conservation and Development Commission is going to wait to see if Damascus is still a city this winter before punishing it for not having a comprehensive plan.
Tualatin and Tualatin Valley Water District say Portland violated water contract – Tigard, Tualatin and Tualatin Valley Water District have purchased discounted summer water from Portland in an arrangement that kept rates lower.
First candidate files for Portland city office – Mary Hull Caballero didn't waste any time filing to run for Portland city auditor, Caballero, a management auditor at Metro, became the first to file for any of the three open city offices.
Jeff Cogen ends Multnomah County role quietly, with lights turned off and shades drawn – Jeff Cogen didn't show up for his last day of work. His aides arrived at the Multnomah County chairman's suite Monday morning to find that their boss had cleaned out his office over the weekend. He did not appear Monday before 5 p.m., when his resignation became official.
Cascadia
County, fired boss strike deal to bar suits – Liane Richardson receives no settlement money, and both sides agree not to sue
Camp idea 'not enough' – No one speaks in favor of the City Council's "rest stop" proposal for homeless people
Violent Crime in Oregon's Four Largest Cities Falls in 2012 – From 2011 to 2012, the crime rate in Oregon's largest cities shows the opposite of the national trend. Nationally, violent crime increased slightly, while property crime fell.
Primary Field Clears Abruptly for Illinois Governor's Bid – With William M. Daley, a former White House chief of staff, dropping out, the most serious challenge to Pat Quinn, the Democratic incumbent, may come from the Republicans.
Exclusive: Bill Daley drops bid for governor – Bill Daley abruptly ended his bid for the Democratic nomination for governor Monday, saying a lifetime in politics had not prepared him for the "enormity" of his first run for office and the challenge of leading the state through difficult times.