The High Five
Are Organizers Liable for Injuries in Boston Marathon Explosions? Three people were killed and over 170 injured yesterday when two explosions rocked the finish line of the Boston Marathon in what White House officials are calling a terrorist attack.

The Case for (Selective) Squatting  – Sometimes, it can be in a city's best interest to encourage the people who do it.

When Cities Must Handle a Crisis – The bombings at the Boston Marathon on Monday have many asking what can be done to prevent future killings on the streets of U.S. cities.

Using Public Art To Transform Cities – Artist Lesley Perkes is working on transforming Johannesburg through art that both inspires and also actually improves the urban landscape.
4-1-1 on E-L-G-L
Stephanie Tripp, Oregon Health Authority, Public Affairs Specialist
Carver Oblander, Willamette University, Student
May 1: Resume Review With Heather Gantz, Waldron HR
May 8: OPB President Steve Bass
Weekly Reader – Top 5 Blog Posts of the Week
I'm Just a Bill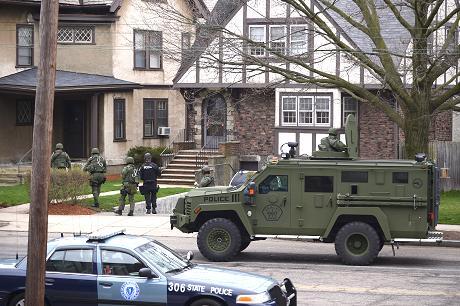 Gun-control bills head to Senate – The fate of four gun control bills in Oregon could come down to the vote of a Scappoose Democrat.
Western Governors Tell Feds to Use P3s to Protect Forests – The Western Governors Association wants the U.S. Forest Service to do more to protect millions of acres of federal forests ravaged in recent years by invasive pests and wildfires. How might the cash-strapped agency do that? Expand public-private partnerships, the governors say.
For Gun Bill Born in Tragedy, a Tangled Path to Defeat – The failure this week of the Senate's search for consensus on gun control after the Newtown shooting can be traced to timing, convoluted rules and a counterproductive alliance.
Oregon liquor agency, Legislature ponder extra 25-cent surcharge on booze – It's not a lot, but the state also is asking to continue a 50-cent surcharge put in place four years ago and due to expire. Combined, the surcharges would raise close to $50 million over the next biennium, and there's a tussle brewing over how the money should be spent.
Fiscal Cliff
City Attorney Releases List Of Employees Targeted – The San Diego City Attorney's Office released a list today of what it says are specific employees targeted by Mayor Bob Filner for layoffs. The list was requested under the California Public Records Act.
As state parks system celebrates centennial, funding is drying up – That $30 annual Discover Pass fee isn't raising enough money though, state officials say, leaving all of the state's parks in a perilous position even as they celebrate the park system's 100th birthday. Staff has been cut, maintenance put off and services reduced or eliminated altogether as the park system struggles to stay afloat with little direct state funding.
Proposed city fee analyzed, dissected – Ballot Measure 20-211 goes before Eugene voters on May 21. Of the three money measures before Eugene voters in May, the proposed city service fee is generating the most dispute
Cuts to Bring Some Delays at Airports, Officials Say – With furloughs of air traffic controllers beginning on Sunday, the head of the F.A.A. and the transportation secretary warned of waiting times as high as a peak of three and a half hours at one airport.
Inside Portlandia
Rich Goward, Portland's chief financial officer, retiring April 30: Portland City Hall Roundup – Goward, 58, joined the city in April 2010 after spending 13 years as the chief financial officer for the Salem-Keizer school district. As Portland's chief financial officer, he earned $162,302 annually, overseeing financial services such as accounting, debt management, treasury and pension oversight. Goward declined to comment on his retirement.
Clackamas County board clarifies that Portland-Milwaukie light rail routine duties can be performed without vote – The ordinance allows county staff to process permits and do engineering and surveying work on the Orange Line, advocate for Clackamas County at regional and state rail planning talks and ensure public safety.
Beaverton all smiles about Nike's Washington County expansion plans – The city of Portland and Washington County both have been courting Nike's possible expansion since last fall. Beaverton Mayor Denny Doyle made a point in recent years of building a healthy working relationship with the company, whose headquarters are in an "island" of Washington County just outside of the city limits.
Outside Portlandia
Task force set to meet May 1 – A task force charged with looking at the city's form of government will hold its first meeting May 1, Mayor Jim Burke said at Monday's City Council meeting.
A Silicon Valley Vision for San Francisco – Ron Conway has in two short years become one of San Francisco's power brokers, using his wealth and contacts to pursue his vision of the city.
The Chicago Infrastructure Trust as a Way to Fund Big Public Projects – In conjunction with this week's American Planning Association conference, which brought 5,000 urban planners to Chicago, last night the Chicago Architecture Foundation hosted the roundtable "No Small Plans: The Chicago Infrastructure Trust."
Career Center
America's jobs are moving to the suburbs –  Jobs continue to move to the suburbs despite more people living downtown, potentially crimping growth.
creating a great place to work – So what's Kip's formula for success? It's simple, empowering, and very human. Love (yes, love) your people and run the business on the basis of 7 foundational principles. Agree where you want to end up, but empower employees or, as he says, "unleash the creative genius of each individual to figure out the best means to the end."
When Not to Listen to Your Employees – You shouldn't listen to an employee who wants help to solve a conflict with another.
Social Network
9 Twitter mistakes to avoid – Even experienced Twitter users occasionally commit a faux pas, and it's important to know the most common mistakes so you can avoid them. These mistakes can lead to misunderstandings, lost followers or even a bad reputation.
Open Budget Oakland – Open Budget Oakland promotes a deeper understanding of the city budget, so that citizens, officials, and other stakeholders can engage in more informed dialogue about how the City of Oakland currently works and how it should in the future.
200 Million Users? LinkedIn Is Just Getting Started – Forbes – Launched in May 2003, LinkedIn's popularity has skyrocketed over the last decade. In January, it hit a staggering 200 million users–massive growth when we consider it held just 22 million five years ago, and one million just a year after launch.
May We Recommend:
ELGL Facebook: Multnomah Food Initiative
ELGL Google+: AASHTO – The Voice of Transportation
ELGL Pinterest: THE VAULT CHARLESTON
ELGL Twitter: Nick Christensen